This week I'm a London tourist again with my dear friend Victoria. She arrived from Florida on Tuesday and we've been traipsing all around and taking way too many pictures. And I'm pleased to say, we even saw the back of the Queen's head as she exited Buckingham Palace in a horse drawn carriage. No big deal. The city is looking so patriotic and festive this week, everyone is gearing up for the Diamond Jubilee. I love it!
It's a lot of fun showing someone from back home all the things I've grown to love here. Victoria notices all of the same things I noticed when we first arrived here, like the cute little kids following their parents on scooters and the obvious driving on the wrong side of the road. Most of all though, it's just nice to be in the presence of someone who knows me from somewhere else. Someone who's seen me in a different context and that I don't feel like I have to explain as much about myself to. I can relax a little more and let my Southern roots shine.
I wish friends from home could visit me every week; they help me remember that I'm known and loved.
Happy Thursday everyone! I hope you're enjoying some awesome adventure this week.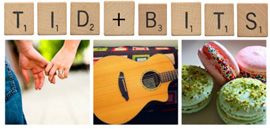 Michaela Rae