I'm pretty excited about a few things right now, one being that I finally found a dress for
Kaitlyn
's wedding. I didn't end up getting the one I mentioned in
this post
. Instead I found one from H&M. I love it because it's flowy and soft and I feel so feminine and pretty in it. Plus it was cheap, which is always a bonus. I'll have to get the wrinkles out with a dry clean of course.
I've also started planning our mega road trip through Europe this summer. I even made a
Pinterest board
to start getting me pumped (as if I need to be more pumped). It's surreal to think that we'll be able to do this, and I know it'll probably be the only time in our lives that we will be. Here's our tentative plan, we'll fly to Madrid and then rent a car for the rest of the trip. Once we reach Berlin, where we'll fly back to London. We hope to do the trip in July over 2-3 weeks. We haven't done that much traveling since being in England, so this will be our big shebang.
Have you been to any of these places? I would love to hear any suggestions for places to stay and things to see. do, etc. It's a little crazy researching each place and knowing which things to make a priority over others, there's just so much and we want to do it all. Please help us out!
Dear Oxford
,
I'm excited to visit you
again
today, you're a magical place. I'm going to walk on your pebbly streets, admire your bell towers and take pictures of it all.
Dear husband
,
Thank you for being so patient with me this week. Need I say more?
Dear blogging friends
,
I've really enjoyed interacting with you recently. Thank you for your encouraging comments and feedback. I didn't expect to find myself enjoying the blogosphere so much, but I really do. When you're living in a foreign country and away from all of your friends and family, being connected with people is huge, so thank you!
Dear Lord
,
Thank you for reminding me this week that it's ok to not have it all figured out and that sometimes the best and most relieving thing to do is to just admit that. You are God, and I am not, and I'm ok with that. Life is better when I just trust you.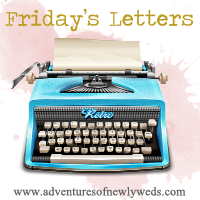 I hope you have a fantastic Friday and weekend!
Michaela Rae